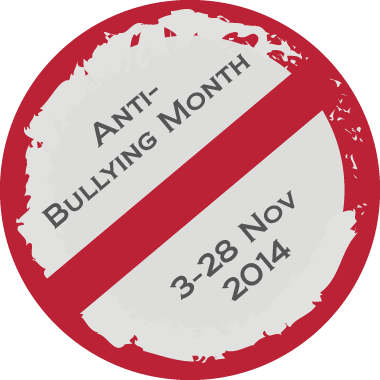 I've always been an avid supporter of anti-bullying campaigns, it's something that is close to my heart and an area that I feel I need to speak up on.
Since, as far back as I can remember, being bullied was a general part of my life.  At 13 years old, I was attacked my a group of 15 girls, who all ranged between 15 to 19.  There was no ignition for it, they were a 'gang' looking to impress one another and unfortunately, I turned up in the wrong place at the wrong time.  I don't recall much of it or what lead up to the attack but I do vividly remember waking up on the ground, a couple of older adults trying to stop the attack.  My friend, at the time, grabbed my hand and told me to run.  I wanted to run home but they blocked our path, so I ran with my friend back to her house.  I was in tears, battered with swollen lips that were bleeding, vision out of my left eye was poor and generally feeling disorientated.  My dad was called and within minutes, he'd turned up and took me home.
Of course my parents phoned the police instantly and an officer turned up promptly but during the time the police officer was taking a statement, I passed out.  Between then and arriving in A&E, I was in and out of consciousness and everything seemed a blur.  I was kept in hospital for 3 days, as I had swelling of the brain. I'd taken a fair old beating and my poor head couldn't take it.  Once everything settled down, I was released and allowed to go home.  But it took me 9 weeks, until I could return to school, fully.  Anytime my mum put me in the car, she'd end up stopping at the end of the road, for me to be sick.  My anxiety was bloody high and I just couldn't cope with it.
You see, 3 of my attackers, went to my school and they had been waiting for my return!  When I eventually started going to school, there was no avoiding them.  They'd make snide comments as we walked passed, spit at me, leave threatening notes in my locker and generally make my life a living hell.  I was a laughing stock, their sheep kicked up their bully crusade a notch and it got to the point that I couldn't even walk through the school gates without having a drink thrown at me.  But no one stopped them, people simply bowed their heads and ignored the situation.  I'm not entirely sure how my school reacted to this but after a few months, those 3 girls were no longer seen within the school.  But it made my life hell, literally a living nightmare.
2 years later, my parents made the decision to have me moved schools and life settled down a lot quicker, I became the happy girl I once was.  But this effected me throughout my teenage years, into my mid 20's, I became socially awkward and felt like an outsider.  I started to prefer my own company, than spend time with others and I eventually received the help I needed at a crucial turning point of my life.
This is hard for my to write, even harder for me to share my story because I've rarely spoken about it.  That attack, for however long or short it was, set a trail that I went down and couldn't turn back on.  I didn't ask anyone in school to stick up and take a stand but it was obvious that others rather shy away and not defend something that's very wrong.  All these events, rolled into one and it left me alone.  I decided to throw myself into activities, Air Cadets, Swimming, Netball and Hockey, even Horse Riding.  And I did really well at all these, I excelled and made county teams, as a teen and eventually joined the Armed Forces but it shadowed my life.
I did everything wrong, I had no one to guide me and say "hey, stop right there, don't hide" and went arse about face with life.  My experience, inevitably led me into working within the Mental Health field.
I wanted to share a few pieces of advice, for anyone on the receiving end of bullying in any shape or form and hopefully, it may give them the platform to stand up and realize that there is help out there!
So, here it goes:
Don't blame yourself, it's not you that is at fault at all.  In general, a person bullying is the one with the issue, an insecurity and they take that out on others.  People experience bullying in all areas; sexuality, gender, appearance, disability, race.  It's their attitude that factors into this, it's their issue and they will latch onto whoever they can.  You are not the issue, in fact, you are pretty damn well perfect!
The last thing you should do, if you are on the receiving end of bullying, whether it be in person or over the internet, is isolate yourself.  If people aren't standing up and saying "oi you, stop it", it doesn't mean you are alone.  There are many avenues you can go down and you need to be heard.  If in a work place, speak to your HR Manager or a senior member of staff, it will be in confidence.  If in school and you don't feel you can approach your tutor, then please speak to your school nurse, even a receptionist or admin staff, they can flag the appropriate avenues to take.
But speak up, please do not hide yourself away from the general population, by talking, you are starting to heal the wounds that have been opened by the oppressor.
It's hard to lead your life, when you are subject to bullying.  You don't feel like you can eat, you may stop looking after your appearance and simply stop caring for you.  But you know what?  You need to look after number 1, make sure you are eating correctly, take vitamins, if you are struggling on a daily basis, then please speak to your GP.  It is critical that you look after yourself.  Mental Well Being is an important part of our lives.  Exercise is good, even if it's a brisk 15 minute walk every day.
Take a nice long hot soothing bath at the end of the day, sounds stupid?  It's a soothing option for your body and allows you to relax before bed, try to steer away from alcohol as this can act as an antidepressant and may cause you emotional stress rather than to chill out.  Turn your lights down, light some candles and generally take a few hours to yourself, away from stressors in life (this is what I do when I need a breather and it works wonders).   Book yourself in for a massage, I find that a back, neck and Indian head massage, is very calming during an emotional time.
All in all, take care.
This is a very important point, that I want to get across.  You are not at fault and hurting yourself is not a solution, please do not put yourself in harms way because this isn't your fault.  I know this is direct and may come across blunt but I can't stress enough that this is not an avenue to take.
If you are a young adult, teen or a parent looking to seek advice, you can contact the Young Minds Organisation (here) or call 0808 802 5544.  You can also contact the National Bullying Helpline (here),  or see this ITV This Morning List (here) with detailed helplines that are available.
I am more than happy to discuss this topic and any relating topics, with my readers. You can email me over on admin@naughty-corner.com or find me on twitter >>here<<